Identity – HeSHNO objectives
Promoting knowledge that relates to the biology, epidemiology, prevention, diagnosis and treatment of cancers arising in the head and neck.
Development and publication of guidelines for the management and supportive care of patients suffering from head and neck cancers.
Organization of scientific and educational events and conferences on the topic of head and neck cancer.
Creation and maintenance of a Greek Tumor Registry for head and neck cancers.
Development and promotion of research activities as well as facilitating interactions between Greek and foreign scientists in head and neck oncology. Clinical studies will be developed in association with Greek and foreign cooperative groups.
Promoting public awareness for head and neck cancer.
Achieving national representation to international organizations and societies.
Collaboration with other organizations and societies in various scientific activities that take place in Greece or other countries.
Organization of educational programs and the publication of educational material on head and neck cancer for the general public, patients, and physicians.
Awarding grants to members or non members for scientific work on head and neck oncology.
Bylaws
You can view the HeSHNO Bylaws by clicking on the image below: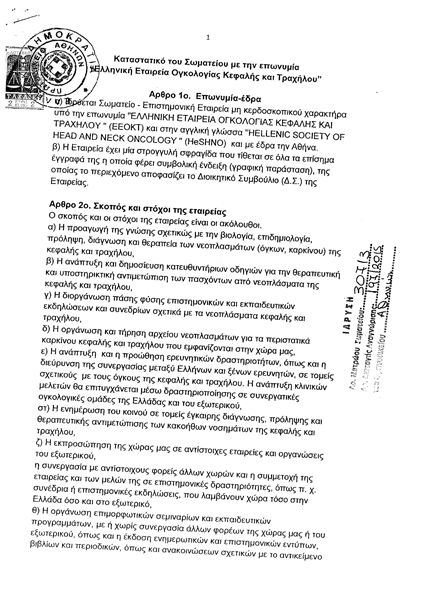 Governing Board 2019 – 2021
President:
Dimitrios Moraitis (Surgery)
Vice President:
Athanassios Argiris (Medical Oncology)
Secretary General:
Konstantia Tsamasioti (Radiation Oncology)
Secretary Elect:
Christos Georgalas (Otolaryngology – Surgery)
Treasurer:
Effie Petinellis (Radiation Oncology)
Members:
Konstantinos Dardoufas (Radiation Oncology)
Konstantinos Papakostas (Otolaryngology – Surgery)
Governing Board 2017 – 2019
President:
Athanassios Argiris (Medical Oncology)
Vice President:
Dimitrios Moraitis (Surgery)
Secretary General:
Christos Georgalas (Otolaryngology – Surgery)
Secretary Elect:
Konstantinos Papakonstantinou (Plastic Surgery)
Treasurer:
Effie Petinellis (Radiation Oncology)
Members:
Konstantinos Dardoufas (Radiation Oncology)
Konstantinos Papakostas (Otolaryngology – Surgery)
Founding Governing Board 2015 – 2017
President:
Athanassios Argiris (Medical Oncology)
Vice President:
Dimitrios Moraitis (Surgery)
Secretary General:
Christos Georgalas (Otolaryngology – Surgery)
Secretary Elect:
Konstantinos Papakonstantinou (Plastic Surgery)
Treasurer:
Effie Petinellis (Radiation Oncology)
Members:
Konstantinos Dardoufas (Radiation Oncology)
Konstantinos Papakostas (Otolaryngology – Surgery)